Join us for Rocket City Kittypalooza 2022!
Cattyshack, Inc. is inviting the cat loving community to shop their way through the historic grounds of Lowe Mill ARTS & Entertainment, at 2211 Seminole Drive, Huntsville, AL 35805, on May 7, 2022 from 11am-9pm. The Kittypalooza Event Itinerary is below…
Our reason for this event is to spread awareness about the significance of spaying and neutering pets, barn cats, strays and ferals. As our shelters and rescues fill up every year around this time, lovingly called "Kitten Season", it's not just about the expenses we incur. It's also about the physical exhaustion, mental fatigue, depression and the sense of overwhelming helplessness that rescuers fall victim to. The cat over-population problem, and the mental health of rescuers, could be drastically alleviated if cats were spayed and neutered before they impregnate each other. Most rescues would LOVE to be able to help pet-owners, concerned citizens, and good Samaritans with spay/neuter before the litters start accumulating! We all strive to educate the community about the health benefits of sterilizing cats, spay/neuter assistance programs, trap neuter return (TNR) programs, and the need for foster homes.
Kittypalooza Itinerary:
11:00am-2:00pm: MULTI-RESCUE ADOPTION EVENT
Are you ready to adopt a new kitty? Or just want to look around? Join us in the First Floor Connector, where multiple nonprofit rescues will be bringing some of their cats and kittens that are ready for adoption. There will also be a table of homemade baked goods where your spare change will benefit animal rescue and your tastebuds! We will also have goody bags for the first 300 attendees. Enter the Mill through Door #4 and walk straight ahead.
11:00am-5:00pm: 20-MINUTE QUICK CUDDLES
In the Cattyshack Lounge, studio 1062, enjoy our cats and kittens as they frolic (or nap) their way into your heart. Reservations are required and no more than 6 people can be in your group. Click here to reserve your 20-minute session today. A single $25 donation is collected at the time you make your reservation online. Enter the Mill through Door #4 and follow the signs.
11:00am-5:00pm: KITTYPALOOZA 2022 T-SHIRT MAKING
Also in the First Floor Connector will be where you can get your one of a kind Kittypalooza t-shirt hot off the press (literally)! Huntsvillustrated will be screen-printing your shirt right before your eyes!!! There will be limited stock in various sizes on site, but you can pre-order your t-shirt by clicking here to guarantee your size. You can pre-order until May 2nd. A $25 donation is requested for each t-shirt. Enter the Mill through Door #4 and walk straight ahead!
6:00pm-7:00pm: KITTEN YOGA
Relax with the help of yoga teacher Ashlee Merchant and our curious and lovable kittens. Class is in the Cattyshack Lounge, studio 1062, and reservations are required. Click here to sign up for class today because it will fill up fast! Participants must be 18+ and bring their own mats. A $40 donation is collected at the time you make your reservation online. Enter the Mill through Door #4 and follow the signs.
6:00pm-9:00pm: THE YARN BALL
Dragon's Forge Cafe and Ravenwood Meadery will be hosting a formal masquerade ball benefitting Cattyshack on the 2nd floor of Lowe Mill. The Yarn Ball requires a $5 cover charge at the door, which goes directly to our rescue. If you won a handcrafted cat mask at our silent auction on April 23, your mask gives you free entry! There will be music, laser lights, a photo booth, and a $1 raffle fundraiser for some pretty freakin pawsome stuff. Dragon's Forge Cafe will have food and non-alcoholic drink specials, and next door our friends at Ravenwood Meadery will have libations for 21+ party guests to enjoy. Don't forget to grab a Cattyshack goody bag while supplies last. Enter the Mill through Door #30 and head upstairs.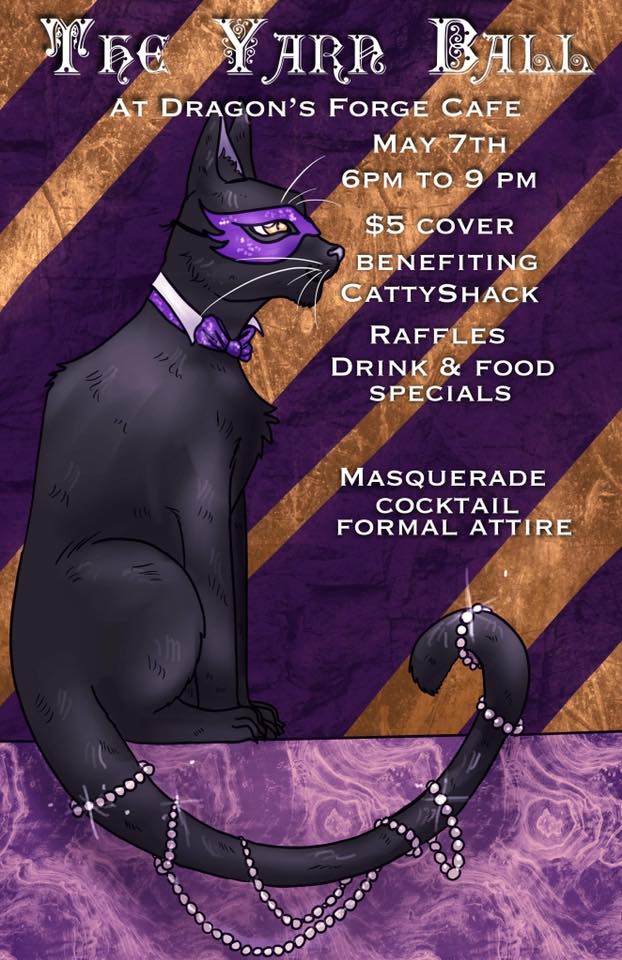 We look forward to seeing you and thank you for your support!
The Cattyshack Crew