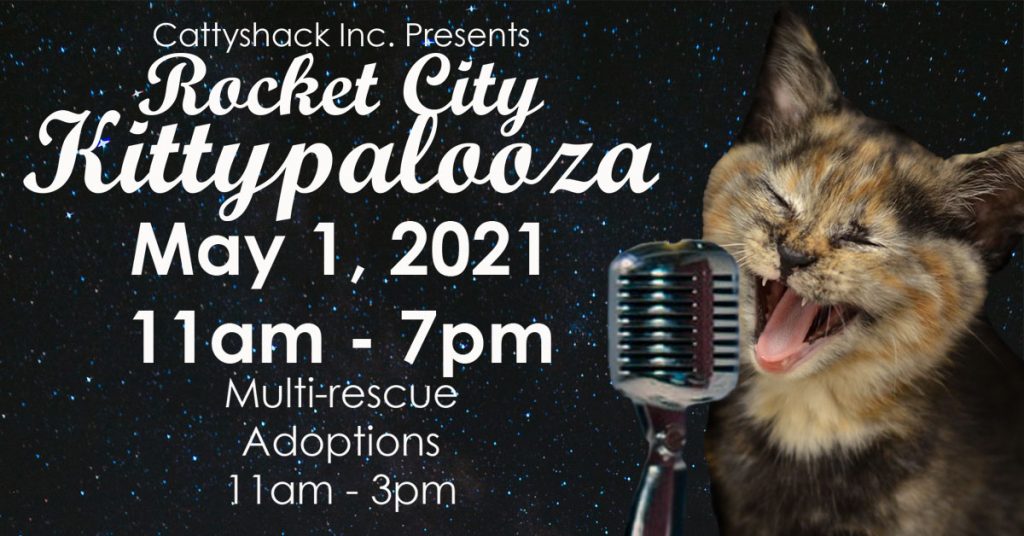 Join us!
Cattyshack, Inc. is inviting animal lovers, cat ladies and gents, animal advocates and the general public to shop their way through the historic grounds of Lowe Mill ARTS & Entertainment, at 2211 Seminole Drive, Huntsville, AL 35805, on May 1, 2021 from 11am-7pm. We want folks to enjoy various animal art, pet-friendly toys (handmade and otherwise), pet foods and treats, craft booths, informational classroom sessions, specials at the Mill's eateries, and much more! The first 200 attendees will receive a goodie bag!
Our goal is to spread the word about the significant hit kitten season takes on our local shelters and rescues, in addition to educating the public about the importance of spaying and neutering (yes, even if you have an indoor-only pet!), TNR, and the need for foster homes!
Speaking of being overwhelmed during kitten season… please visit the First Floor Connector for our multi-rescue adoption event! From 11am-3pm, local nonprofit rescues will be bringing some of their kittens that are ready for their forever homes.
Our Lounge will be having 20-minute Quick Cuddles all day! We encourage visitors to donate any amount upon arrival, as our Lounge is our main source of fundraising and funds are not required in order to make your reservation for this event. We accept cash, Venmo, CashApp, PayPal, credit or debit cards, or you are welcome to donate a bag of Purina One Healthy Kitten food or a box of pee pads because we can never get enough!
Since fundraising is crucial this time of year, and we would love for our guests to check out our Plushy Adoption Event on the 2nd Floor Connector Gallery, where handmade cat plushies are on display and available for "adoption" (purchase) April 28 – June 1. Plushies will remain on display and move on to their forever homes the week of June 7.
We look forward to seeing you! Thank you for your support!
Are you a business, rescue or individual that would like to participate? Click here!